Vida Nova Directly from Vinery in Portugal or Wells Wines
Sir Cliff has known and loved the Algarve for over 40 years. His idea to plant a vineyard at his property Quinta do Moinho provided the genesis point for the Vida Nova range of wines. Sir Cliff is very much involved in producing the wine. When in Portugal he is often seen getting his hands dirty in the vineyard or indeed his feet dirty in the winery, cleaning the fermentation vats!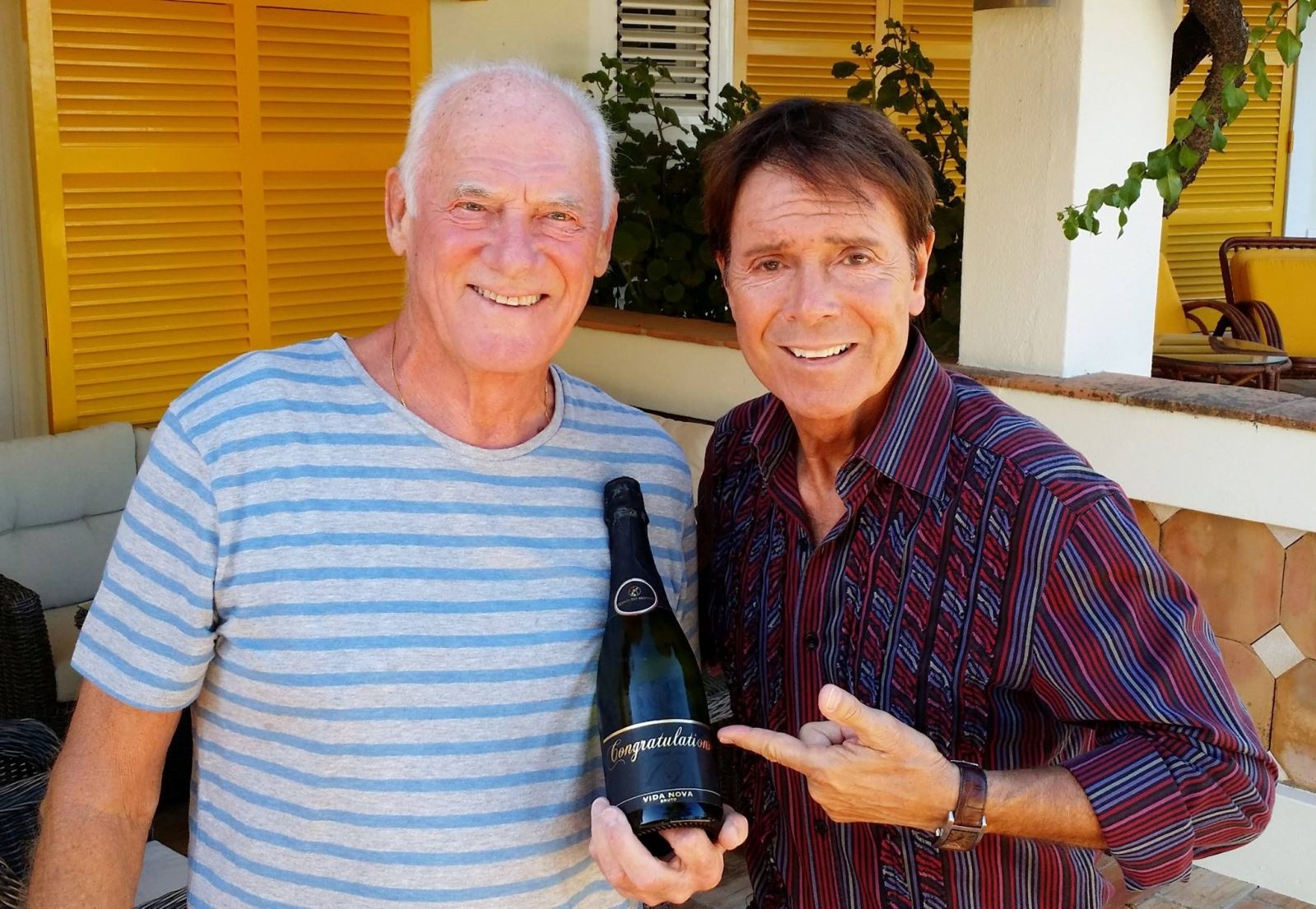 Vida Nova Wine
Vida Nova on Facebook
Adega do Cantor is on Facebook so go and be their friends on-line!
MUNDUSvini 2010 - GREAT INTERNATIONAL WINE AWARD
The Great International Wine Award of MUNDUSvini Internationale Weinakademie, Neustadt an der Weinstrasse, Germany, is the largest worldwide competition under the patronage of the Internationale de la Vigne et du Vin ( OIV) and the International Oenologists´ Association (UIOE).
More than 270 international jury members tested thousands of wines from 49 submitting countries and the results were announced this week . The knowledge that they do distinguish the best of the many wines submitted for evaluation makes the medals so coveted.
ADEGA DO CANTOR is thrilled to announce winning the MUNDUSvini Gold Medal for their VIDA NOVA ROSÉ 2009. Max Birch said, 'It is a dream come true! We never thought that a small producer from the Algarve could go out and gain such fantastic recognition, competing with world-class wine-growing countries. A Gold Medal for our Rosé, which only last month won the Best Overall Wine of the Algarve at the Melhor Concurso do Vinho do Algarve, Fatacil, reassures us that we are on the right track in terms of producing the best wine this region has to offer and incentives us to aim higher with every vintage!'
3rd Challenge for the Best Wine of the Algarve
Adega do Cantor has emerged as the grand winner of three of the most coveted awards during the "III Concurso o melhor Vinho do Algarve 2010 (3rd Challenge for the Best Wine of the Algarve) hosted at Fataçil, Lagoa on August 24th 2010.
Judged by a panel of highly-acclaimed critics, including sommeliers from Michelin-starred restaurants in the Algarve, as well as heads of national wine fraternities, Adega do Cantor is proud to announce winning the following medals:
Gold Medal for Vida Nova Branco (White Wine) 2009
Gold Medal for Vida Nova Reserva (Red Wine) 2008
Overall Winner of this Regional Wine Challenge for Vida Nova Rosé 2009
VIDA NOVA CONGRATULATIONS
Vida Nova "Congratulations" Sparkling wine has been created to celebrate Adega do Cantor's 10 year anniversary. This is a sparkling Rose made using the methode Champenoise, and is made from 100% syrah grapes picked in 2010. Vida Nova Sparkling Rose is a limited edition of 6000 bottles and is available in the UK through www.wells-wines.com.
VIDA NOVA ESPUMANTE
Vida Nova Espumante is made in the time-honoured traditional method from 100% Syrah grapes. After a secondary fermentation in bottle, the wine is matured for a further nine months on its yeast lees, prior to disgorging and final release. Made to enjoy on any occasion, this wine celebrates Sir Cliff Richard's half-century in music, and opens a new chapter in the story of a winery that he helped to create.
VIDA NOVA & ONDA NOVA WINES
At present we produce two different ranges of wine. Vida Nova is the original and is always a blend of different grape varieties. It consists of red, white and rose wines, as well as a reserve red in the better years. Onda Nova is a new range of single-variety wines, the first of which is a Syrah red, with more red and white wines to follow in the years ahead. We also produce limited runs of one-off wines such as the Vida Nova sparkling wine made to celebrate Sir Cliff's 50 years in show-business.
All the wines reflect the warmth, colour and diversity of the Algarve, and are designed to partner its fantastic cuisine.
WELLS WINES
The new Congratulations sparkling white wine has been created specially to celebrate Cliff's 75th Birthday. Available from Wells Wines, who also stock a range of other Vida Nova wine.

Full details at www.wells-wines.com
More Information
Membership Prices