More News
Please consider supporting this smaller business that serves us so brilliantly with their Cliff dedication and efficiency! Our preferred supplier is Leos Den.
Sir Cliff Richard celebrates his 80th Birthday with the release of
'Music… The Air That I Breathe'.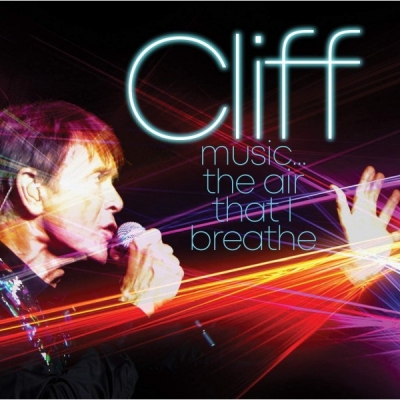 Order from Leo's Den here
£10.99 + £1.25 shipping
The new album shows Sir Cliff's amazing versatility with two newly written songs, 'Falling For You' and 'PS Please' as well as a selection of new interpretations of songs originally by Sir Cliff's favourite artists including The Beatles' 'Here Comes The Sun' and The Bee Gees' 'Too Much Heaven'. Additionally, there are five duets with Bonnie Tyler, The Bellamy Brothers, Sheila Walsh, The Piano Guys and Albert Hammond on the track that inspired the album title The Air That I Breathe.
Includes 2 brand new tracks, 5 new covers and 5 duets.
The new tracks were recorded at Germano Studios, New York.
1. Falling For You
2. The Air That I Breathe - Cliff Richard with Albert Hammond
3. Here Comes The Sun
4. It Is Well Inside My Soul - Cliff Richard featuring Sheila Walsh
5. Older
6. PS Please
7. Where Or When
8. I Could Be Persuaded - Cliff Richard with The Bellamy Brothers
9. Too Much Heaven
10.Taking Control - Cliff Richard and Bonnie Tyler
11. Let It Be Me
12. (It's Gonna Be) Okay - Cliff Richard with The Piano Guys
Cliff Richard - The Dreamer
Cliff's new autobiography is available from Leo's Den here.
£20.00 + shipping
Available from 29 October 2020 from £15 (prices will differ depending on who you buy it from!)


'Before Cliff Richard and the Shadows, there was nothing worth listening to in British music.' - John Lennon.
Cliff Richard tells his story, in his own words, in his highly anticipated new autobiography.
Achieving a hit in every decade since the 1950s, Cliff Richard stands alone in pop history. Coming of age in 1950s London, he began his music career at Soho's legendary 2i's Coffee Shop, and now he's approaching his 80th birthday with record sales of over 250m and counting.
Cliff Richard was a pioneer, forging the way for British rock 'n' roll with his unique sound.
The original British teen idol, his incredible story takes us into the studio of TV's first pop show Oh Boy!, through 40 years of Top of the Pops, and playing live up and down the country and across the world, with a constant backdrop of screaming fans.
Cliff looks back on his humble upbringing, and how he went on to fulfil his wildest dreams by becoming a pop star and even a film star. He talks about finding Christianity, reflects on the ups and downs of life in the public eye, and reveals how the false allegations against him changed his life forever.
He's seen era-defining pop stars come and go, and he's still making new music, with a new project to be released this year. As a teenage Elvis-fan in Cheshunt, this may have seem a distant dream. Here's his story of how he made it all happen.
Publisher: Ebury Publishing
The Great 80 - Mike Read
Order from Leo's Den here
£12.99 + £3.50 P&P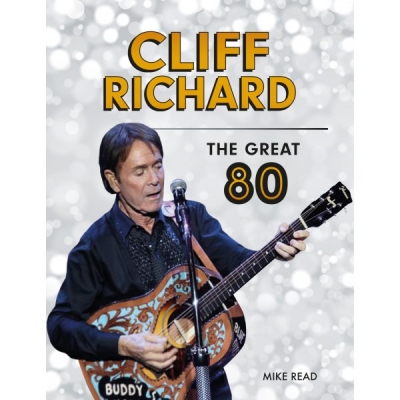 Cliff Richard has been a musical icon for six decades, and this book will be released to help celebrate his 80th birthday in October. Millions of record sales after his debut in the 1950s Cliff still continues to delight his fans with new music and spectacular live performances. The book is written by ex DJ Mike Read and provides a comprehensive survey of Cliff s life starting with his early performances as a teenager with Cliff Richard and The Drifters.
Nice book with colour and black and white images interspersed within the words. Mike goes through the years documenting the interesting and pivotal moments in Cliff's 80 years.
143 Pages.
Thank You for a Lifetime - To Sir With Love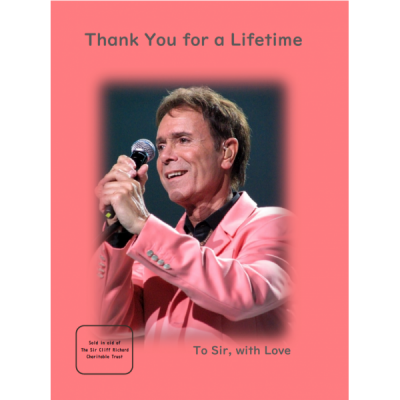 Price Is £12.00 + £3.95 P&P
Please click here to order from Leo's Den
For 62 years, Sir Cliff Richard has been entertaining the world. Now, to mark his 80th birthday, here is a book with contributions from many fans and friends detailing how Sir Cliff has inspired them through his music, his performances and his faith. It is a "thank you" from the heart for giving his fans so many years of great songs, concerts, records and so much more
All profits from the sale of this book will be given to the Sir Cliff Richard Charitable Trust.
If buying 'To Sir' & 'Great At 80' and shipping together then £3.95 total shipping.
---
And don't forget our song to Cliff:
The lyrics to Diamond - our gift to Cliff and our reply to his Golden song!
DIAMOND
THROUGH THE PAGES OF YOUR LIFE
REACHING HIGHER, BURNING BRIGHT
GAVE US LAUGHTER, GAVE US HOPE
ALWAYS WITH US THROUGH IT ALL
TREASURED MEMORIES LOCKED AWAY
PRECIOUS MUSIC HERE TO STAY
GRACEFUL SPIRIT, TENDER HEART
HUMBLE NATURE, SHINING STAR
YOU GAVE YOUR HEART AND SOUL
GAVE YOUR LOVE, GAVE YOUR ALL
GLORIOUS, EVERLASTING
BEAUTIFUL
WE ARE FOREVER YOURS
WE CELEBRATE ALL WHO YOU ARE
FAITHFUL
TIMELESS
DIAMOND
THROUGH THE DARKNESS OF THE NIGHT
FOREVER YOUNG ONE SHINE YOUR LIGHT
TRUE COMPANION, CLOSEST FRIEND
WE ARE WITH YOU TILL THE END
YOU GAVE YOUR HEART AND SOUL
GAVE YOUR LOVE, GAVE YOUR ALL
GLORIOUS, EVERLASTING
BEAUTIFUL
WE ARE FOREVER YOURS
WE CELEBRATE ALL WHO YOU ARE
FAITHFUL
TIMELESS
DIAMOND
YOU GAVE YOUR HEART AND SOUL
GAVE YOUR LOVE, GAVE YOUR ALL
SO LET YOUR LIGHT SHINE ON
THROUGH THE YEARS STILL TO COME
EVERLASTING
BEAUTIFUL
GLORIOUS, EVERLASTING
BEAUTIFUL
WE ARE FOREVER YOURS
WE CELEBRATE ALL WHO YOU ARE
FAITHFUL
TIMELESS
DIAMOND
FAITHFUL
TIMELESS
DIAMOND
The unlimited MP3 download is available for ORDER on Amazon NOW:
Spotify, iTunes and all other places you would expect to be able to download songs!

They are a £0.99p purchase.

Thanks everyone!

_____________________________________________________________
Cliff has relaunched his You Tube channel with some exciting new footage – view here and don't forget to subscribe! Cliff https://goo.gl/GUZq1f
______________________________________________________________
GET YOUR MERCHANDISE FROM CHESTER HOPKINS ONLINE
More Information
Membership Prices