Cliff announces 2017 Tour Dates in UK and Ireland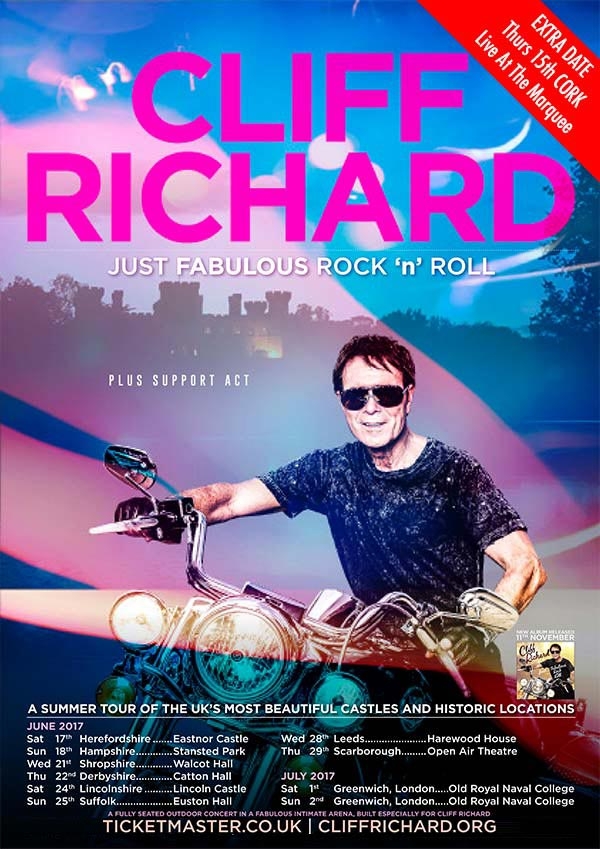 Cliff celebrates the release of his new album, Just ... Fabulous Rock 'n' Roll with the announcement he has plans for a summer tour of the UK's most beautiful castles and historic locations in June and July 2017, together with a single date in Cork, Ireland.
His 2017 Summer Tour with a Support Act will play at the following FULLY SEATED venues:
Live at The Marquee, Cork (Ireland), Eastnor Castle (Herefordshire), Stansted Park (Hampshire), Walcot Hall (Shropshire), Catton Hall (Derbyshire), Lincoln Castle (Lincolnshire), Euston Hall (Suffolk), Harewood House (Yorkshire) Scarborough Open Air Theatre (Yorkshire), Greenwich Music Time (London)
Face Value Tickets are priced between £65 and £45 (plus booking fees apply in the UK)
For Cork, tickets are priced €76-€54.65 (service charge may apply)
A wheelchair platform will be available at each UK venue priced at £45 per ticket, with a free Assistant ticket
Fans Pre-sale
The customary fan club members pre-sale using a password supplied by us and will allow the purchase of MAX 6 tickets per household, and only 2 in front rows across the whole tour. If you are a member, I have or will be sending this out. Do NOT join to try and get the code, as I have suspended all membership joins until after the general release sale of this set of concerts.
The Fans pre-sale is from 10:00am on Saturday, 12th November.
This runs alongside the album promotion pre-sale, with access to the same allocation of tickets.
Fans will be able to book on line (via a click through link) from the Cliff Richard official website or for those without the internet, by telephone. The click through link will be listed here on Saturday 12th November before 10am.
Fans can also obtain a pre-sale passcode by pre-ordering Cliff's new album Just ... Fabulous Rock 'n' Roll from today (Saturday 5th November) through the Daily Mail Promotion: http://smarturl.it/CliffRichard_DM. The pre-order purchase will generate a unique pre-sale order code for a pair of tickets at the 2017 Tour. If you ordered your album via Amazon, you can simply cancel that order to re-order the album from the Daly Mail promotion.
Travel Packages On Sale Now!
Book a travel-inclusive short break package through Newmarket Holidays at www.newmarketholidays.co.uk/cliff or call 0330 160 7855 – available NOW !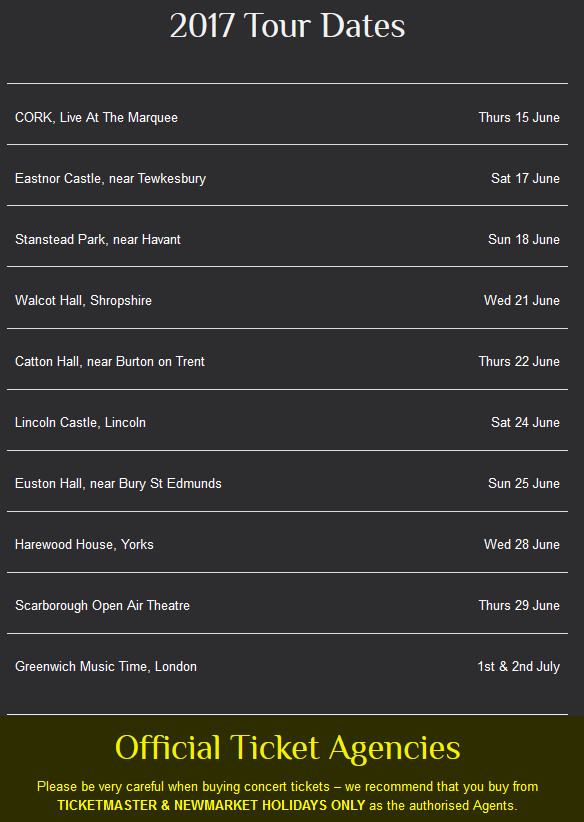 Important Info
Whenever Cliff publishes dates, and whatever booking information is provided, it's always recommended that you purchase your tickets from the listed and recommended suppliers.
There are always going to be people out there who want your money and don't care if you don't get into a concert as the ticket they've sold you is fake, or that they've sold you a hugely over-priced ticket as they know you desperately want to see Cliff.
Also, remember that publishing your tickets online as a picture on facebook also give those nasty people out there the chance to use your tickets bar code number to create frauds, so hide that information and don't be the person to turns up to find that your ticket has been 'used'.
Don't let them win.
x